I feel as though I am exploring the meaning of my life by creating sculptures.
Focusing on a single matter is nothing but a search for the truth.
Understanding something means understanding yourself.
Understanding yourself means understanding the world.
Understanding the world means understanding the universe.
It is something universal.
It is something beyond beauty or ugliness.
That is why I keep carving. That is my role.
Although a certain form of Buddha statues has been maintained for over a millennium, their appearance has changed in the course of history. I aim to carve spirited statues of Buddha while learning from history and protecting it in my capacity as someone living in the modern era.
I work on my sculptures focusing on a hundred years from now. I refine and purify myself to become as transparent as possible. I drive the chisel with strong will and carve my life into the lump. My work is the story of my life written through sculpture. In other words, my work is a representation of myself.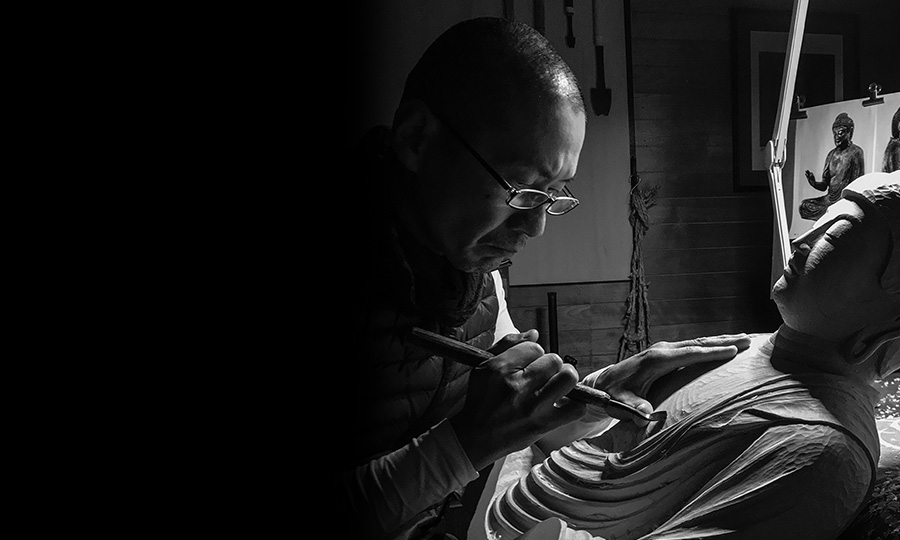 Gizan Katoh
Buddhist sculptor / Sculptor
Born in Tokyo in 1968
In addition to Buddha statues, I also create sculptures that are based on Japanese classics, history, and Buddhism.
If you would like to place an order to have a Buddhist statue made or to request an interview, please use the form provided on this website.
<Enishi> Buddha Statue Donation Project
On March 11, 2011, the Great East Japan Earthquake caused many casualties.
As an artist, what could I do after facing such unprecedented disaster? …
The conclusion I reached was to carve Buddha.